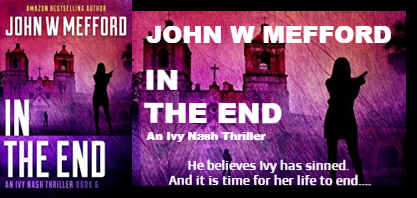 NEW RELEASE….
A generation has lost its way.
And no one will sin without retribution.
Parents are crushed after their daughter is ripped from their lives. Ivy chases every lead, but the fog of deception is deep.
So very deep.
For mankind, the end is near. How many sacrifices will it take before the cataclysmic events can't be stopped?
It was supposed to be a confession. Instead, it became a statement of conviction — to Satan.
Will Ivy be able to stop a demonic killer?
It's one woman's pledge to save a generation from a fanatical psychopath.
It's one man's path to claim his destiny.
Can Ivy possibly back away from the threat?
He believes Ivy has sinned. And it is time for her life to end…just like all the others.
My Review of In The End
I love the Ivy Nash series and this book just made me love it even more, Ivy is trying to help a family find their missing daughter, but they are illegal immigrants and don't want to go to the authorities as they are worried they will be deported and not be able to find their daughter.
Meanwhile Ivy is trying to throw herself into her job and finding this girl instead of facing her past and finding her birthparents, something Ivy's boyfriend is pushing her to do. She just is not ready to take that leap yet, but with this new case to distract her she can push that aside and concentrate on work.
As Ivy dives more into the life of this missing girl she begins to wonder if what her parents think of her is really how she is. Is she the perfect student or is there something more going on here. She eventually brings in Stan to unofficially help her. Stan is also working on a case with his partner at the missing girls school, there have been satanic rituals going on around the school and a local church.
What I love about this book and the other Ivy Nash books is that they can be read together or alone, and all of them provide a thrill ride of a read and keep you on your toes. I couldn't even began to guess the end of this book and it makes for a wonderful read at you try to figure out what is going on, what connects everything and what they are going to do next.
I give IN The End
5/5
"Rife with deceit and deception and characters that leap off the page, this story is told with confidence through a sure hand, engaging both the mind and the heart. A compelling treat."
— Steve Berry, New York Times Bestselling Author
"An intense and heart wrenching story that keeps you engaged from beginning to end."
— Simon Wood, USA TODAY Bestselling Author of DECEPTIVE PRACTICES.


"I love the way that Mefford writes, seamlessly jumping between characters and time frames with no confusion, and he is extremely descriptive of the setting . You almost feel like you are watching a movie instead of reading a book!" — Hilary Mahoney, Elusive Red Tiger
Above reviews from An Ivy Nash Thriller, Book 1, IN Defiance
Redemption Thriller Series
Books in the Alex Troutt Thrillers:
AT Bay AT Large
AT Once
AT Dawn
AT Dusk
AT Last
Books in the Ivy Nash Thrillers:
IN Defiance
IN Pursuit
IN Doubt
Break IN
IN Control
IN The End
and…..Coming Very, Very, Soon….
Books in the Ozzie Novak Thrillers
ON Edge – book 13 (releasing Nov 28th – pre-order
here
)
Game ON – book 14 (releasing Dec 12th – pre-order
here
)
ON The Rocks – book 15 (releasing Jan 4th – pre-order
here
)
Shame ON You – book 16
ON Fire – book 17
ON The Run – book 18
The Scoop
By now you're probably aware that the Alex Troutt thrillers, Ivy Nash thrillers, and the soon-to-be-released Ozzie Novak thrillers are all under the same Redemption Thriller Series umbrella. Why? Because, ultimately, they all connect — Alex, Ivy, Ozzie. How? That's part of the mystery that I'm slowly unveiling throughout the Redemption Thriller Series.
Through each sub-series, characters from different books appear in the other novels. If it adds suspense, intrigue, or even a good laugh, I've included a cross-over character — it's a lot more fun that way. Plus — and here's the real kicker — I'll write a final six novels that brings all of the major characters together — Alex, Ivy, Ozzie. It will be explosive and gut-wrenching…in a way that will leave you breathless. At least that's my hope.
Starting with IN The End, I'll be launching a new book every 2-4 weeks. IN The End will segue into the Ozzie Novak Thrillers. ON Edge (book 1), is due out on November 28. From there, it will be non-stop suspense until all six Ozzie books are released. And my editor tells me that Ozzie Novak is my best character yet.:) So, I hope you're ready for some thrilling binge-reading.
How can you catch up if you've started the Redemption Thriller Series mid-stream?
Box sets have been created in the Redemption Thriller Series to allow you to pick up a pretty nice discount. To read the first three Alex Troutt thrillers just copy and paste this link into your browser: http://smarturl.it/05gf5r Or, you can search for Redemption Thriller Series Box Set. Alex Troutt Thrillers books 4-6 are also a box set. The Ivy Nash and Ozzie Novak thriller box sets will be coming soon.
About the Author
Amazon #1 Bestselling Author, #2 bestselling author on Barnes and Noble, and a Readers' Favorite Gold Medal winner.
A veteran of the corporate wars, former journalist, and an astute observer of human and social behavior, John W. Mefford has been writing his debut novel since he first entered the work force almost thirty years ago, although he never put words on paper until 2009. Once he started writing, however, he couldn't stop.
A member of International Thriller Writers, John writes novels full of electrifying suspense — the same types of books he has loved to read since before he could shave.
When he's not writing, he chases his youth on bike or a basketball court, all while making mental notes of people and societies across the land.


I received this book to review through Beck Valley Books Book Tours, I have volunteered to share my review and all the opinions are 100% my own.
NOW FOR THE AUTHOR'S GIVEAWAY
Win IN The End by John W Mefford ebook
3 Winners!!
Ending on Sunday 3rd December at 11.59pm CST
Open Worldwide
Enter

HERE
Good Luck !!
Are you a book reviewer or book blogger? Join our book tours reviewers team –
Apply Here
x
Current book tours open for sign ups
HERE